Set out on a mystical journey with Pokemon Snakewood. The game takes place years into the future. Where you wake up to see that Hoenn has been ravaged by a zombie plague. With no one being able to escape from its deadly clutches, team up with Prof Birch to discover a cure.
| | |
| --- | --- |
| Name: | Pokemon Snakewood |
| Size: | 31 MB |
| Compatibility: | Windows (All Versions) |
| Language: | English |
| Security: | Checked – Virus Free |
| Downloads: | 2,33,000 |
The adventure within the game is much different than what the fans are used to. It is challenging at every step of the way. With you having to fight your way through a wide number of zombie Pokemons. The game is addictive in its unique gameplay. And get to know about your past as you get introduced to new characters along the way.
Gameplay of Pokemon Snakewood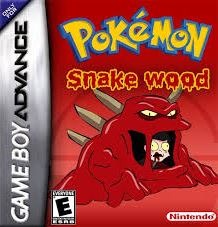 For the fans of Pokemon series the gameplay is a mixed bag of surprises. On the surface, the creators have not done much alteration to the original gameplay. Players will find an interface they have grown accustomed to. However, there are a few tweaks here and there.
The first among which are the Pokemons themselves. The game has introduced a wide number of our familiar Pokemons in a zombie form. They are grotesque and mean, with several unique powers. You still have to fight them to gain points though. Once again you can go head to head with gym trainers to gain badges. But that is not the only way. Complete other side quests and accomplishments to be rewarded with badges as well.
The gaming interface has improved along the way. With a higher resolution, the characters appear realistic. But a word of caution, the game is extremely hard to complete. Luckily, there are numerous cheat codes available for the game. Using a couple along the way will prove to be a huge help.
Features to look out for
The game has managed to rediscover the Pokemon franchise, we are all familiar with. It is quite an experience to have.
The first thing to catch your eye will be the freshness of the game. It comes with new scripts, new world and lots of new characters as well. The game does not carry on the story of its predecessors. It is new and fun.
The numerous "Fakemons" in the game is a brilliant touch. It sets the game apart. The "Fakemons" are zombie version of your beloved Pokemons. And like them can evolve and become even more fierce.
In the map you will also find lots of new areas. There are even more hidden locations that you didn't know existed. There are places like Hoenn University of Film and a hidden Meathouse, introduced for the game.
The plot for the game is darker than usual. But it manages to have several light hearted moments as well. You wonder across beautiful landscapes in the search of a cure for the Plague. Along the way you will also meet several new characters. But there will be very few whom you can trust.
The gameplay has been changed ever so slightly. It is now a lot more difficult than ever before. But even then it is delightfully fresh.
System Requirements
It is always better to check the requirements of a game to avoid blemishes later. The requirements of Pokemon Snakewood are basic and should not worry you much.
The game is compatible with almost every Operating Systems. With the game suited ideally to run on Windows Vista and higher devices.
It will be preferable to use processors like Intel Pentium 4 1.5GHz. This will give you the best gaming experience without overheating your device.
You will need a RAM of at least 2 GB. With over 1 GB of space free on your Hard Drive.
Pokemon Snakewood Download Method
The game can be downloaded for free for PC. Just follow the few steps mentioned below, and you will be fine.
Firstly you will need to download the Pokemon Snakewood file. You will also need an emulator like Virtual Boy Advance. Beware, it is going to be a zipped file.
After downloading the file, paste it in your desired folder. Extract the file there and also copy the redwood IPS file at this location.
Associate the two files by renaming them. Use the same name for both the files but do not make any changes to .IPS and .GPA.
Now double click to open your VBA. Select the game from Files and Launch it. You will be able to play Pokemon Snakewood on your device without any worries.
Alternatives of Pokemon Snakewood
Kings League II
King Leagues II is a fun RPG. You will have to put together a team of you own. Search from the multiple classes of fighters available. Assemble a group to take on your foes. Train your men and prepare tactics which best suits you. The game is available for free and is a perfect balance of stratagem and adventure.
Spell Drifter
Spelldrifter is a high intensity game. Use the resources available at your disposal to outsmart your opponent. Use the surroundings to your advantage for launching a precise attack on them. Customize your hero r earn rewards. These rewards help you to improve your character for going toe to toe with others.
Dust: An Elysian Tail
It is an action packed RPG. Explore the world within the game with your character Dust. Blessed by special powers gained from a sword, Dust sets upon liberating men from the oppression of General Gaius. Hop on to a magic adventure and defeat General Gaius with your skill and guile.