Among Us has proven to the world, you don't necessarily need 4k graphics and a high end gaming platform to have some fun. This cartoonish game has taken the world by storm with just  simple and fun gameplay mechanics and rules.
All the popular streamers are playing and talking about it, and the game has risen to the metaphorical top in a world dominated by the likes of Fortnite and Call of Duty.
The game can be downloaded on any operating system, including Apple's iOS and macOS, Android, and Windows as well; the game supports cross-platform too, enabling owners of all devices to play together.
| | |
| --- | --- |
| Name: | Among us for PC |
| Size: | 77 MB |
| Compatibility: | Windows (All Versions) |
| Language: | English |
| Security: | Checked – Virus Free |
| Downloads: | `4,44,560 |
What is Among Us All About?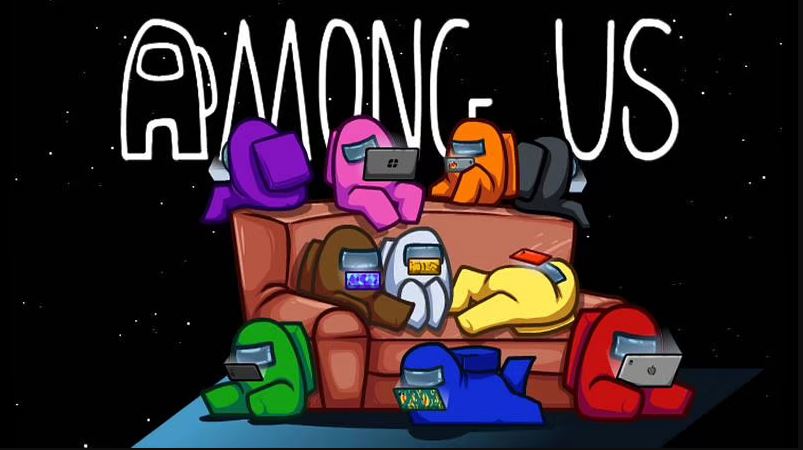 For those of you who have heard good things about the game and want to try it out, but don't exactly know what it is all about, Among Us is a game about crewmates and an imposter among them.
The game requires a minimum of 4 players and can accommodate a maximum of 10 players in the game. Of these 10, a certain number of players, usually one or two, are imposters and the rest are crewmates. The imposter's job is to kill all the crewmates without being detected, using vents and sabotaging the equipment around them to use to their advantage.
The crewmates have no way of telling who the imposters are unless they actually see an imposter kill someone or see them using the vents, since they all look the same. The players can choose from 3 different map locations to play in, which include The Skeld, MIRA HQ, and Polus. The imposters win if they manage to kill all the crewmates. In order for the crewmates to win, they either have to detect and vote out all the imposters, or manage to complete a number of given tasks before the imposters manage to kill everyone. Imposters can pretend to do tasks too in order to blend in with the crewmates.
Players can choose different colors for their character – imposters and crewmates alike – and can choose from a range of different cosmetics including hats, costumes, and even pets that will follow you around. Some cosmetics are free while others can be purchased using in-app purchases.
The game is free to play on mobile devices, but you will have to buy it if you want to purchase it on a Windows PC. The paid version will have some additional cosmetic items which would have to be paid for on mobile.
How to Install Among Us on Your Windows PC?
Here are the steps you will need to follow in order to download and play Among Us for PC:
First, you will need to download the steam client for windows. You can find it here: https://store.steampowered.com/about/
Once steam has been downloaded, click on the .exe file and follow the on-screen instructions to install steam on your system. After installation, if you do not already have a Steam account, you will have to create one in order to use Steam's services.
Once you have logged in, open the Steam client and go to the Steam Store. From there, you can simply search for Among Us and click on its name in the search bar.
Scroll down to find an 'Add to Cart' option. Click on it and then checkout to proceed to the payments page. Steam will provide the on-screen instructions for installation once the payment goes through.
Here are the Among Us System Requirements (Minimum)
CPU: SSE2 instruction set support
CPU SPEED: Info
RAM: 1 GB
OS: Windows 7 SP1+
VIDEO CARD: Info
FREE DISK SPACE: 250 MB
What Made Among Us So Popular?
Probably the main reason why Among Us is as popular as it is is its ease of access and low requirements that allow it to be installed on practically any device. That coupled with the fun concept of getting together a group of friends to enjoy an intellectual mystery game where you can control cute looking crewmates and just have a fun time, is a more relaxing contrast to adrenaline-infused shooting and action games. We are currently going through a global pandemic and have spare time to kill, and somehow everyone figured that Among Us was just the perfect way to do so. The game is also appealing to people over the age groups of people who play your regular shooter.
Streaming giant Twitch.tv also played a major role in promoting the game, since the game was released some time in 2018 but it was only when a couple of streamers started streaming Among Us during the lockdown that the game really became popular.
Some people have even compared the game to Fall Guys, another popular 2020 game which has the same low-graphics, lots of fun mentality as Among Us.
Alternatives for Amoug US
If You Enjoyed Among Us, Here are 5 Alternatives That Might Interest You
The Ship: Murder Party is a smart alternative to high paced action games and provides gamers with a mentally challenging style of play just like in Among Us. It is also a multiplayer game that can be enjoyed with friends.
Project Winter is an 8 player multiplayer revolving around deception and suspense. Gather resources and build structures with your team in order to survive.
Barotrauma is a 2D co-op survival game with some haunting elements. The player has to navigate a submarine whilst simultaneously fighting monsters, crafting items, and keeping an eye out for danger.
Gary's Mod is a 2006 open-world game with a 10/10 rating on steam. It allows the player to interact with tons of objects in-game and many different game modes can be added to it through the steam workshop. The base game has no objective, kind of like Minecraft.
An online browser-based deduction game that was developed by blank media games, Town of Salem holds a Steam Rating of 9/10 and can be purchased from the Steam Marektplace for a small amount.
FAQ's
Is Among Us Free on PC
Ans: No, Among Us has to be purchased from the Steam marketplace in order to be able to play on a Windows PC.
Is Among Us Safe
Ans: Yes, Among Us is completely safe to install, provided it has been downloaded from the correct source. It is a child friendly and cartoonish game.
Where Can You Get Among Us?
Ans: Among us can be downloaded from the Google Play Store on Android devices, from the App Store on iOS devices, and from the Steam Marketplace on a Windows PC.