uTorrent is a P2P software that serves as a BitTorrent client in many countries. You can use it to share, download, or open torrent file like movies, games, videos, ebooks, and more.
It's an efficient downloading method because it lets users download multiple things simultaneously. Also, each download can be paused and resumed later.
uTorrent is available in numerous languages for different platforms, including Microsoft Windows, Android, Linux, and macOS.
You can do a uTorrent download for PC or Mac by following this step-to-step tutorial.
| | |
| --- | --- |
| Name: | uTorrent for PC |
| Size: | 3.06 MB |
| Compatibility: | Windows OS, macOS |
| Language: | English |
| Security: | Checked- Virus Free |
| Downloads: | 3,264,774 |
Features of uTorrent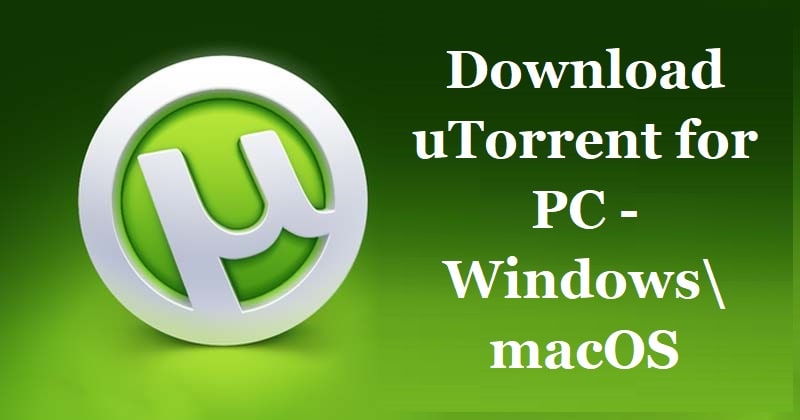 uTorrent is a beginner-friendly P2P software that you can use even without having prior knowledge of torrenting. Below are five of the best features that make uTorrent special:
File Syncing
Sharing Videos and Music
Distributing Large Data
Shut Down Automatically
Remote Management
File Syncing
Torrent syncs are decentralized P2P file-sharing clients. You can use it to open Torrent file.
uTorrent sync should be your choice if privacy or storage is your prime concern. In a few aspects, uTorrent is better than other cloud-based file sync services like Google Drive and Dropbox.
When you use uTorrent, there is no risk of data getting stored at any centralized server. That's because the file is directly shared between your laptop and the computers of friends. Or between your laptop and desktop.
Unlike Google Drive or Dropbox, you can freely use uTorrent as there is no size limit. That means you can sync as many records as you want if you have the available hardware space.
The unlimited file transfer feature of uTorrent has made it so popular.
Sharing Videos and Music
uTorrent is the best way to share your videos and music without hassle.
If you have a music band that you want to promote, you can use uTorrent to upload your media online.
Many people use uTorrent for sharing videos and music features because hosting is an expensive option. You can save a fortune in bandwidth fees by releasing data via uTorrent.
When you download and open Torrent file, you can control bandwidth. This method allows you to reach a huge audience without annoying anyone.
uTorrent also offers music and video bundles in packages for users for free download.
Distributing Large Data
You can use uTorrent to quickly distribute large files. uTorrent also allows you to distribute data publicly and helps you save money on bandwidth.
A torrent is the quickest way to share large files like government resources, scientific evidence, photograph collections, or educational material. This way, you get a faster download speed than other methods.
Shut Down Automatically
Another impressive feature of uTorrent is that it shuts down automatically.
Suppose you are using uTorrent for downloading any file. This feature allows uTorrent to sleep, reboot automatically, or shut down when the file finishes downloading.
So, rather than running 24/7, uTorrent closes itself after all your files have been downloaded.
Remote Management
Lastly, uTorrent allows its users to manage the downloads remotely.
uTorrent is quite popular for its remote file management feature. This feature allows users to control torrents through a web browser remotely.
If you are away from the device that is downloading files through uTorrent, you can easily check the progress through a browser.
How to do uTorrent Download on PC?
Steps to do Torrent Download on Windows:
If you want to download torrent files on your PC, you must install uTorrent. To download this P2P software, you can follow the steps listed below. This method is simple, fast, and genuine.
Step 1: You must open your preferred browser for torrent downloads on your PC. After that, visit the official website of uTorrent.
Step 2: When you are on the Torrent web, you need to click the "Free Download" button on the green toolbar. After clicking the button, a number of options will appear on your PC screen. You need to choose the "Basic."
Step 3: After that, the file will download automatically. Once downloaded, you can visit the downloads folder in your system and run the uTorrent.exe file.
Step 4: Following this, a prompt configuration will appear to make changes to your system. Click on the "Yes" button.
Step 5: A setup screen will appear on the window. Click on the "Next" button. Another screen will appear with the License Agreement. Click on "I Agree."
Step 6: Then optional offers will appear on your screen. You need to click on "Decline." The next screen will also have promotional offers. Decline it as well.
Step 7: After that, uTorrent will start installing. Click on the "Finish" button after the process completes.
Step 8: An icon will appear on your screen, double click on it to open it. This will open a page on the web. Choose your language and click "Yes." Another page will be opened where you can click on the "Add Tutorial Torrent" button.
Just like that, you can download uTorrent for PC in a few simple steps. Here's a video on how to install uTorrent:
Steps to Torrent Download on macOS:
If you want to download torrent files on Mac, you need to install uTorrent on the system. Follow the steps listed below for a quick and simple download.
Step 1: To download uTorrent on your Mac, you need to visit the official website of uTorrent through your preferred browser.
Step 2: Then download the uTorrent for Mac installation file. After that, visit the downloads folder in your system and look for the .dgm file.
Step 3: Once found, run the file. Click "Agree" on the end-user license agreement to start the installation.
Step 4: The installation will be completed automatically in a few seconds. You can then open the uTorrent app by double-clicking.
Just like that, you can do Torrent download on macOS.
Alternatives of uTorrent
#1 qBittorrent
If you are looking for a lightweight torrent client, you can trust qBittorrent.
qBittorrent has a similar interface as uTorrent, but it's an ad-free and open-source software.
It's a good quality torrent client software, but it does not allow you to download a larger number of torrents. If you try downloading anyway, the software will lag.
This u Torrent alternative has impressive features like support for magnetic links, auto-torrent adding, an integrated torrent search engine, creating torrents, and more. The wonderful tools and features of qBittorrent will never disappoint you.
It also offers an ad-free experience and clean interface so you can quickly find and download the files via torrents.
#2 Vuze
Vuze is a different type of torrent client that you can use as an u Torrent alternative.
It is closed-source software that allows you to find torrents easily. But it offers adware during installation. Also, if you want to access premium features, you must purchase Vuze Plus.
It's an amazing alternative for advanced users because it has unique features like an RSS subscription, remote control, media player, file converter, plugin support, and more.
This u Torrent alternative is heavy on resources, which does not make it an ideal choice for beginners and old PCs.
Vuze lets you download files at Wi-Fi only. Also, you can control the torrent download and upload speed.
#3 TorrDroid
TorrDroid is another u Torrent app alternative that lets you download files without any hassle.
It's a lightweight app designed with a built-in search engine. It does not take much storage space and has support for magnetic links.
The simple interface of TorrDroid is ideal for professionals and beginners. By using this uTorrent alternative, you can easily download different files.
The downloads through TorrDroid automatically get queued if the device has insufficient storage. You can also select the storage location as per your choice.
TorrDroid allows you to download files at high speed. Also, you can view the videos before the file is downloaded.
FAQs
Is uTorrent Safe?
If you download the official uTorrent, there is no risk, as the software will not harm your system. But you must carefully download torrent files through this P2P software. You can use VPN while downloading torrents through uTorrent to maintain your privacy and anonymity.
Is uTorrent app for PC and macOS free?
There is a free uTorrent version for PC and macOS, but you also have several premium options. With the premium purchase, you get increased security and an ad-free interface. One of the versions also comes with a VPN.
Is there a uTorrent web free download version?
Yes, there is a web version of uTorrent that you can use to download files online. You can safely use uTorrent web on your preferred browser to download any type of file of your choice.
Is uTorrent legal?
Yes, uTorrent is legal, but if you try to download copyrighted files, it might be illegal. So, you must only download files available in the public domain. This way, you can safely use uTorrent.
What is better: uTorrent or BitTorrent?
Both uTorrent and BitTorrent are owned by the same company. That means they offer better results and uncompromised performance. But uTorrent is comparatively lighter than BitTorrent, which makes it a better option.
Conclusion
uTorrent is one of the best P2P software that you can use for downloading torrent files. For better performance, you can download the uTorrent app on your PC or Mac.
This software lets you download large files like movies, games, videos, and ebooks. Also, when you use uTorrent, there is no risk of data getting stored at any centralized server. Lastly, it lets you share large files and helps you save money on bandwidth.