If you are looking for a free and easy-to-use video editing app, CapCut should be your choice. This editing app is available for both Android and iOS users. You can use it to create cinematic videos in just a few taps.
CapCut is dedicated to simplifying complex video editing processes so anyone can illustrate creative concepts. Even if you don't have better video editing skills, you can use CapCut to create fantastic videos on your smartphones.
You can also use CapCut for PC to edit videos. Follow this guide if you want to do CapCut download and install to your Windows PC or macOS.
| | |
| --- | --- |
| Name: | CapCut for PC |
| Size: | 75 MB |
| Compatibility: | Windows OS, macOS |
| Language: | English |
| Security: | Checked- Virus Free |
| Downloads: | 10,000,000+ |
Features of Cap Cut App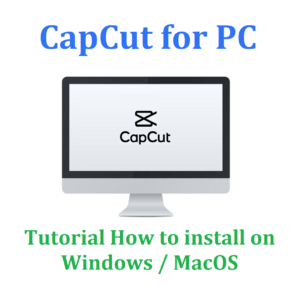 Cap Cut is TikTok's default video editing app, trusted by several users. It is a pure editing app offering multiple tools to make creative videos.
You can get Cap Cut to your PC or Mac and start using it immediately. Below are the app's amazing features that make it the best.
Split Function
Speed Control
Reverse Video
Music Library
Filters and Effects
Split Function
CapCut video editor offers a split function feature that you can use to easily split the file into smaller segments.
You need to open a video to use the split function. After that, move the playhead to the exact place where you want to split the file. Then simply tap the split function.
You don't lose the video quality. That's because the split function allows you to do a frame-by-frame split to know the exact split position.
Before you use this feature, have a clear idea of which sections of the video you want to use. It will save you from getting overwhelmed during the video editing process.
Speed Control
CapCut video editor offers speed control feature lets you control or change the speed of a particular video to make it more appealing.
You can change your video's speed by tapping the Speed icon. Then choose a preset speed similar to the video's real speed, like 3.0x or 0.1x. Once you apply the changes, your video's duration will change.
If you want to use slow motion, your original video must be shot at a high frame rate or high resolution. It allows you to protect your video's resolution.
With speed control, you can make each of your videos attractive and unique.
Reverse Video
CapCut video editor also offers a reverse video feature, but it's tricky to use as you can only work with very short videos.
The app might freeze or crash if you use a large video for the reverse video effect. It happens because the processing at the back end is resource-intensive and complex.
The video clip must be short, or your device should have sufficient space so it can easily process large files.
You can also use the reverse video feature to reverse multiple clips and join them together using different tracks. Position each of such clips one after another to create an impressive video.
Music Library
CapCut offers you a vast range of music libraries so you can use royalty-free music and sound effects.
The soundtracks are of the best quality, so your videos can stay as clear as possible. The music library feature lets you easily add tracks and control their position in your videos.
You can look for music with a beat that matches movements in the video, or you can try to match the mood of your video clips.
Filters and Effects
CapCut offers so many filters and effects options so you can sharpen your videos or make them more professional.
The video editor offers season-based and color-based filters. With that, you get multiple beautification tools to improve video quality.
You can apply filters to your video clips with different contrast or color variations. As you can edit your videos in all the possible ways, you don't need any other editor app.
You also get a wide range of special effects like comic, retro, party, dreamy, and more. Use any effect to overlay your video with a fun element. Under each effects category, there are subcategories that you can use to give a defined look to your video clip.
Furthermore, try a blending effect to overlay one video on top of another to create an interesting clip.
How to Download CapCut for PC and macOS?
The best way to download and install CapCut apps for PC and macOS is by using an emulator. Among the possible options, Bluestacks is the best emulator you can use.
Steps to Download CapCut for PC:
Step 1: Start the CapCut apk download process by installing the Bluestack emulator on your PC. Search for Bluestacks online, click on the link, and download it.
Step 2: Click on the downloaded emulator on your PC. It will open a setup wizard. Follow the instructions to install it quickly.
Step 3: Open the Bluestack emulator and click the Google Play store button. Login to the Play store by entering your Gmail ID.
Step 4: Search for CapCut PC and click on the install button to get the app to your PC. After downloading, open it, and enjoy it on your PC free of cost.
Here's a video of how you can CapCut download for PC:
Steps to Download CapCut on macOS:
Step 1: To install CapCut on Mac, you first need to install an emulator like Bluestack to the system. So, search for the emulator online, click on the link, and let it download automatically.
Step 2: Open the downloaded .dgm file and launch it.
Step 3: Go over "App Center" and sign up for a Google account. If you don't have a Google account, create one to download the CapCut apk on macOS.
Step 4: Search for CapCut using the search bar. Once you find an app, install it. After that, open it, and enjoy the app on Mac free of cost.
Just like that, you can get CapCut to your Mac and PC.
Alternatives to CapCut App
CapCut is the best-in-class video editor that is free and offers multiple features. You can use the tools available on this app to make engaging videos.
But are there more apps that work as amazingly as CapCut? It seems like there are, and we have listed three such apps.
#1 VivaVideo
VivaVideo is a new video editing app that has gained immense popularity in no time.
It's a ready-to-use video editor that offers numerous features so you can edit your video clips. It's more of a professional-grade editor because it lets you improve video quality FX.
VivaVideo lets you edit each frame of your video clip, so its quality does not decrease.
You create a slideshow by selecting multiple photos. You can add stickers, animation, and music to enhance your video.
VivaVideo offers a free dubbing option so you can add your voice to the video. The intuitive user interface makes the live dubbing feature easy to use.
#2 KineMaster
KineMaster is an amazing alternative to CapCut PC that has gained popularity, specifically on social media.
The simple user interface of this editing video app makes it quite easy for users to crop, trim, and edit videos.
KineMaster offers a Color adjustment tool so you can remaster the background color of your video.
You can also use ready-made effects like blurring and blending clips. You can simply drag and drop it to add it to your video.
In addition, you can use any audio clip for your video. Plus, you can control your video's speed, reverse it, use time-lapse effects, and add input voice-changing effects.
#3 VideoShow
VideoShow is an excellent video editing app made for Android and iOS users.
It comes with numerous built-in features that you can use to enhance your video. You can use different themes and filters to control the intensity of these features.
VideoShow offers licensed music for your video. You can choose any background sound and music before you upload them on social media platforms.
You can also use split, reverse, blur, and trim to make your videos more engaging. Plus, VideoShow lets you edit the speed of video clips as well.
Lastly, you can add subtitles to your video. VideoShow offers different fonts and text colors to help you style your video the way you want.
FAQs
Is the CapCut PC app free to use?
The powerful editing app, CapCut, is absolutely free. You can use all the tools and features to create a video without paying any charge.
Is CapCut safe to use?
CapCut is a safe app used by many people. It is TikTok's default video editing app and has strong privacy mechanisms.
Do I need to upgrade to Windows 10 to get this app on my PC?
No, you don't have to upgrade to Windows 10 to get the app to your PC. This app is 100% compatible with Windows 7 and 8.
Is CapCut's song copyrighted?
Most of the songs available on CapCut are copyrighted-free. That means you can use the songs without any worry.
What audio files does CapCut support?
CapCut supports audio files like MP3 and AAC. That means any song you want to add to your video must be converted into these formats.
Conclusion
CapCut is a popular video editing app that you can use to edit your videos without any limitations. This app offers the freedom to apply different filters, effects, music, and more to help you edit your videos in the best possible way.