SHAREit is the best file sharing app for PC. It works perfectly well on Android, iOS, Windows PC, and Mac. That means you can install SHAREit on any device and transfer files in no time.
Interestingly, this file-sharing app doesn't require any complex settings for installation. Its stand-alone file-sharing options have made it so popular among users.
SHAREit for PC works perfectly fine across platforms so that users can share multiple data and apps with others. The app uses the device's built-in Wi-Fi radio and pre-installed media players.
Most file-sharing apps require a device's cellular connection. Or they do file transfers over the internet. But SHAREit is different because it neither uses data nor does file transfer online.
Also, SHAREit doesn't have compatibility issues because it lets you share large files across device platforms, like Android to Apple. There is no risk to privacy while using this app.
If you wish to do SHAREit download and use on Windows PC and Mac, read this post to know how it's done.
| | |
| --- | --- |
| Name: | Shareit for PC |
| Size: | 30 MB |
| Compatibility: | Window OS, macOS |
| Language: | English |
| Security: | Checked- Virus Free |
| Downloads: | 38M |
Features of the SHAREit App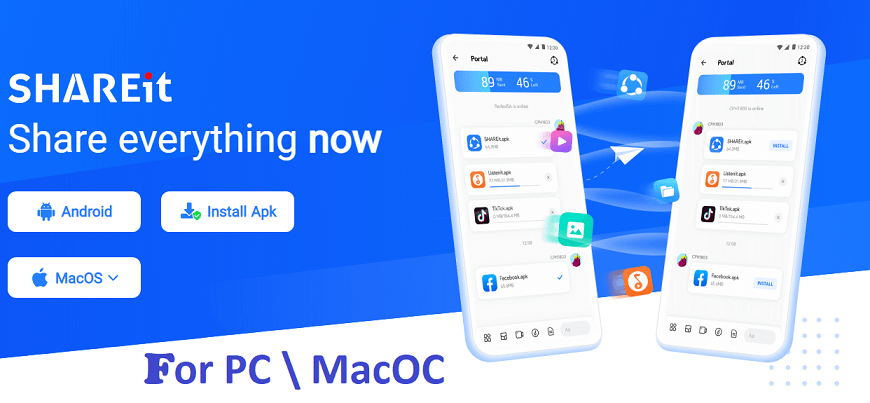 SHAREit is a powerful file transfer app that you can use to transfer music, documents, photos, videos, GIFs, and more.
More than 1.8 billion users have downloaded SHAREit for file transfer. But this app does a lot more than just sharing files.
Below are five impressive features of SHAREit that make it the best.
200 Times Faster Than Bluetooth
Discover Infinite Videos
Discover Trending Music
Change Name and Avatar
WebShare
200 Times Faster Than Bluetooth
If you use Bluetooth for file transfer, maybe you should try SHAREit because it is 200 times faster.
SHAREit is one of the few apps that excel in file sharing. All thanks to its fast and reliable speed that makes file transfer quicker and safer.
This file-sharing app has been optimized to the point that it can transfer large files in no time. It comes with the highest transfer speed of 42 MB/s. That means you can share a 1GB file in less than 30 seconds.
You can use SHAREit to quickly transfer files in any format. In addition, you can use this app to find GIFs, stickers, and wallpaper.
Discover Infinite Online Videos
Many people think SHAREit is only a file-sharing app, but it can also be used for entertainment.
SHAREit app has a special tab in its user interface called Infinite Online videos. If you like to watch videos to keep yourself entertained, this app has got you covered.
You can stream thousands of online videos in HD without any charge. Also, users can stream videos through this app both offline and online.
SHAREit is also equipped with an in-built video player that supports videos in almost all formats. So, you don't need an additional video player if you have this app.
Furthermore, you can add the videos to the Share Zone so they can be seen by anyone with whom you connect through SHAREit. You can easily add or remove files from this list.
To add or remove items from the list, you need to click on your profile picture in the top left corner. Then click on the Share Zone. It only supports videos, music, and APK files.
Discover Trending Music
Along with streaming thousands of online videos, you can also use the app to discover trending music.
SHAREit lets you find trending music, which you can listen to either online or offline. In fact, this file-sharing app also offers thousands of curated playlists to users for non-stop entertainment.
SHAREit also comes with an in-built music player. The music player is equipped with a powerful equalizer that makes music sound better.
Change Name and Avatar
SHAREit allows users to change their name and avatar on the app to connect with others in a better way.
When you start using SHAREit, the app, by default, gives you the name of your phone. But you can change it and keep any name. In addition, you can also change your Avatar.
To do it, you need to open the app. Then tap on your profile icon in the left corner. From the left side, a menu will slide. Again tap on your profile picture.
Then enter any name that you want to refer to yourself as. Select one of the given Avatars from the list, or you can even upload a selfie. Tap on Save.
WebShare
SHAREit normally works when both sender and receiver have the file transfer app. But with WebShare, this problem has been fixed.
The WebShare feature allows users to share files even if the receiver doesn't have this app.
Using this feature, you can provide a link to the other person. When they open the link, they will receive the files that you have sent them.
If you want to use the WebShare feature through the iPhone, slide right from the left sidebar. Then click on WebShare.
The receiver must be in the same Wi-Fi network. Then the receiver needs to open the link. Lastly, the sender has to scan the share code available on the receiver's screen to share files.
If you want to use SHAREit WebShare through Android, it's important that the other person must be connected to your hotspot.
Start by tapping on the icon in the top-right corner and select WebShare. Select the files, connect to the other person's hotspot, and send the files. Just like that you can do SHAREit web sharing.
Steps to SHAREit Download on Windows PC and macOS:
People mostly use SHAREit on their phones, but they can also install it on their Windows PC and Mac. To download the app, one can follow the steps listed below. This method is simple, fast, and genuine.
Steps for Free Download SHAREit on Windows PC:
Step 1: To download SHAREit app PC, visit the app's official website.
Step 2: You will see a Windows icon. Click on it to automatically download the app to your system.
Step 3: Once the app is downloaded, open the downloads folder and search for the SHAREit .exe file. Double-tap on the icon to install it.
Step 4: Following this, a pop-up will appear on your screen where you need to select Run. Another pop-up will appear where you need to select Yes.
Step 5: Lastly, click the Accept button and follow the instruction to download SHAREit on your PC.
Here's a video on how you can download and install SHAREit for PC
Steps for SHAREit Download Mac:
Step 1: To install SHAREit on Mac, you must visit the app's official website.
Step 2: You will see the Mac icon that you need to click on to get the app on your system.
Step 3: Once the file is downloaded, locate the .dgm folder from the downloads file. Double-tap on it to run the app.
Step 4: Accept all the legal agreements and follow the instructions to install the app to your system.
Just like that, you can download SHAREit for laptop.
Alternatives to SHAREit App
SHAREit apk is a popular file-sharing app, but here are three alternatives to this app that you need to try.
1. Zapya
Zapya is a renowned file-sharing app that you can use to transfer files to your friends or family members.
Zapya has a simple user interface so that you can use the app without hassle. This app can be easily downloaded on iPhone and Android. Also, you can use it on Windows PC and Mac by following simple installation steps.
This app allows you to share files between iPhone and Android with lightning-fast speed.
Zapya is completely free to use and supports more than 20 languages.
Bulk file transfer at high speed in no time is possible through Zapya. Also, this app can replicate your data to a new phone.
2. Send Anywhere
Send Anywhere is a popular alternative to SHAREit apk that lets you share your files in their original size.
Send Anywhere should be your choice if you want to share large files without destroying their quality.
Unlike SHAREit, you can use this app to share files anywhere in the world.
When you share the files through this app, you get a 6-digit security share code. A secure link is used for sharing and receiving files, which is valid for 48 hours.
You need a strong internet connection to send files through Send Anywhere.
The app has a user-friendly interface, so anyone can quickly share files with multiple people in their original size.
3. Mi Drop
Mi Drop is a file-sharing application that works similarly to SHAREit.
Mi Drop lets you share large files safely without an internet connection. With this app, you can transfer music, images, files, videos, and whatnot.
This app transfers files at a speed that's 200 times more than Bluetooth.
All Android devices support Mi Drop. Before sharing the files, you can divide them into different categories for better sharing.
While sharing files, if the process is interrupted, you can easily resume it without losing any data.
Mi Drop supports multiple languages, so individuals from all around the world can use this app.
FAQs
Is SHAREit safe?
SHAREit apk is a safe file-sharing application that does not leak user data. Also, it does not make your device vulnerable to malware attacks.
Does SHAREit charge a fee?
File sharing through SHAREit is absolutely free. No matter what you are sharing, the app does not charge any fee.
Does SHAREit have a limit?
SHAREit does not have a limit. That means you can share files of any size using it.
Does SHAREit reduce quality?
There is no risk of quality reduction while using the SHAREit app. The files get transferred at lightning-fast speed, and no quality is lost in between.
Which app is faster than SHAREit?
Zapya is a popular app that seems to be faster than SHAREit. You can use Zapya for quick bulk file transfer.
Conclusion
SHAREit is a powerful file-sharing app that lets you transfer data across different platforms. This app comes with all the features that a basic file-sharing app has and many more. Users must enter the share code to use the app.
You can use SHAREit for file sharing for free. Also, you can enjoy online video streaming and listen to music on this app. SHAREit comes with an inbuilt video and music player, so you don't need any other app for entertainment. File sharing through SHAREit is incredibly safe as the app has made proactive effects to keep the user data secure. Lastly, the app's lightning-fast transfer makes it a must-have.