Even though some motherboards and gaming laptops come with pre-installed Wi-Fi adapters, in most cases they don't deliver a strong signal. Gaming online requires a strong connection and the only way to get through it seamlessly is if you have the best Wi-Fi adapter for gaming. Here is what we found after hours of research.
Top Pick
The ASUS PCE-AC88 AC3100 PCI Adapter emerged as the best simply because of its overall performance. This is a dual-band PCI Wi-Fi adapter that can practically pull speeds as high as 850Mbps on a 5GHz band. According to most users, it worked well even average speed internet connections. It also outperforms most of its rivals in terms of flexibility and stability.

Best Wi-Fi Adapters For Gaming
1.ASUS PCE-AC88 AC3100 PCIe Adapter – Top Pick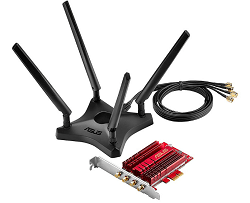 When it comes to gaming gears, no other manufacturer does it better than ASUS. With the ASUS PCE-AC88 PCIe Adapter, you get a top-of-the-line adapter with far-reaching range built to fit right into your gaming PC.

Features
Featuring a dual-band 4×4 design the PCE-AC88 is capable of delivering speeds of up to 2100Mbps on the 5GHZ band and 1000Mbps on its 2.4GHZ band. It is built to support MU-MIMO technology making it easy to work with if you have multiple devices connected to your home Wi-Fi router. It also comes with a flexible antenna that is easy to customize depending on where you want to place it.
Performance
The build quality of the PCE-AC88 adapter is one of the best out there. Additionally, most users agree that its performance is as remarkable as its build quality. You will love the fact that the antenna is flexible therefore giving you easy customization options with other aftermarket antennas. ASUS also included a driver-only-install-software that is easily adaptable especially if you are working with a Windows PC. The only perceivable problem is that it does not come with a Linux driver.

Pros
Robust build quality
Reliable performance
Offers dual bandwidth capacity
Flexible antennas
Cons
Linux drivers are not included
It's a bit pricey but worth it
---
2. Rosewill RNX-AC1900PCE Wi-Fi Adapter – Runners up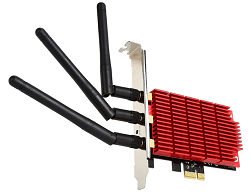 The Rosewill RNX-AC1900PCE comes with a compact body that will easily fit into any gamer's crowded gaming PC case.

Features
Boasting the latest 802.11Ac networking technology, the Rosewill RNX-AC1900PCE will deliver a dual-band speed range of up to 1300Mbps. It features MIMO technology with antennas designed to take full advantage of your routers Wi-Fi range. It comes with a stylish aluminum heat sink that easily dissipates excess heat keeping the card stable throughout your gaming sessions. The Rosewill RNX-AC1900PCE also features detachable antennas that also boost the coverage of the adapter for high-quality Wi-Fi reception.

Performance
The Rosewill RNX-AC1900PCE receives a lot of praise for its efficiency all thanks to the integrated Beam-Forming Technology that intelligently strengthens Wi-Fi connectivity. The adapter is also designed to be compatible with aftermarket antennas in case you are looking for an upgrade. Since it's an 802.11ac chipset, you can be sure of ultra-speeds whether you are streaming 4K movies or gaming online. You can download the latest windows drive for the Rosewill RNX-AC1900PCE and install it into your system. The driver is built with support for most of the Windows operating systems up to Windows 10. The MIMO technology embedded in the unit works well especially if you are using a router connected to multiple devices.

Pros
Features a heat sink for reliable performance
Compact build that can fit in any case
It offers dual-band connectivity
Pocket-friendly pricing
Cons
Installation takes time
Requires an up to date windows 10
---
3. TP-Link AC1300 PCIe Wireless Wi-Fi PCIe Card – Best Budget PCI Adapter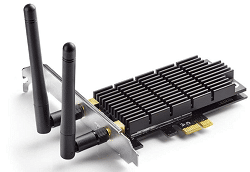 Compared to most non-AC Wi-Fi adapters, TP-Link AC1300 works remarkably well. It's extremely easy to set up and it boasts of reliable performance. Here are its top features.

Features
The TP-Link AC1300 is a dual-band PCI adapter that comes with a driver designed to support Windows 10, 8.1, 8, 7 and Windows XP. It can deliver speeds of up to 1300Mps and it also comes with a heat sink technology that enables stable performance even if your machine gets heated up fast. Also included are two external antennas that make it easy to get access to the best signal. Add that to its MIMO technology and you have a Wi-Fi adapter that can be used with multiple connected devices on your home router.

Performance
The TP-Link AC1300 can handle pretty much anything you throw at it. It can be used for 4K HD video streaming and online gaming as well. It features a Beamforming technology that enhances the efficiency of your Wi-Fi connection which is a plus if you have a weak signal from your router. Another interesting part about its performance is that it has an easy installation process and it comes with support for Ubuntu and Linux operating systems.

Pros
Compatible with multiple operating systems
Reliable online gaming performance
Affordable
Cons
Some complaints about its 5GHZ connection
The installation comes with a learning curve
---
4. Netgear Nighthawk AC1900 Wi-Fi USB Adapter -Ideal for laptop gamers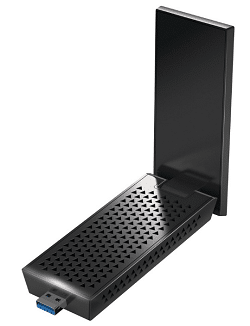 If you need to level up your gaming with higher Wi-Fi speeds on your gaming laptop, the Netgear Nighthawk AC1900 Wi-Fi USB Adapter offers one of the best solutions. It also works well with PCs.

Features
The Netgear Nighthawk AC1900 Wi-Fi USB Adapter is designed for convenience. It's a dual-band adapter with presupposed speeds that can go up to 1300 Mbps on 5GHZ and 600Mbps on 2.4 GHz. It features next-gen 802.11AC technology that is ideal for gamers connected to a high-speed internet connection. It also comes with a magnetic cradle that makes it easy to mount on any metal surface for flexibility. Plus, the Netgear app makes installation a breeze giving you east control and reliable network monitoring.

Performance
From its ease of use to fast reliable connectivity, not to mention a stylishly designed hardware, the Netgear Nighthawk AC1900 Wi-Fi USB Adapter offers one of the best solutions for upgrading your Wi-Fi connectivity on a laptop. Installation is as easy as plugging it into your computer's USB port. Apart from the USB plug and play option, you also get wireless connectivity to your computer which is great for if you have limited USB ports. Some users reported some slight hiccups while connecting other USB devices adjacent to this adapter; the good news is that the Wi-Fi connection works just as well.

Pros
Fast reliable performance
Supports multiple operating systems
Flexible placement options
Easy installation
Cons
It's too big adjacent USB ports
---
5. EDUP 802.11ac Dual Band Wireless Network Adapter – Best USB Adapter for the Money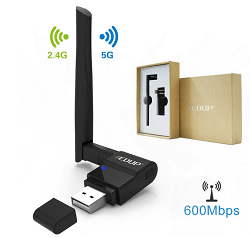 If you are in the search for a budget Wi-Fi adapter for gaming, the EDUP 802.11ac Dual Band Wireless Network Adapter is by far one of the best options out there.

Features
It comes with an easy plug-and-play installation process and can connect on both 5GHz and 2.4GHz bands at speeds of 433Mbps and 150Mbps respectively. Thanks to its portable design, you can take it with you anywhere.

Performance
If user reviews are anything to go by, the EDUP 802.11ac Dual Band Wireless Network Adapter can practically pull a maximum 50Mbps on a 2.4GHz band if you have a 200 Gbps internet speed. Although its nothing compared to its theoretical estimate of 150Mbps, this level of performance is still one of the best out there.

Pros
Easy to set up
Reliable performance
Affordable
Supports dual-band 802.11ac technology
Cons
The range could be better
---
6. TP-Link Archer T9E AC1900 Wireless Wi-Fi PCIe network Adapter – Best for Gaming PC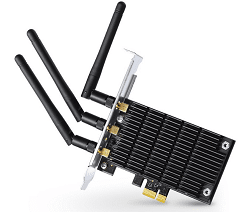 Although it comes at a premium price, the TP-Link Archer T9E AC1900 is a must have for gamers looking for lightning fast online gaming speeds.

Features
It's a dual-band adapter built with 802.11ac specifications in mind so as to be able to deliver a reliable range as well as speed. Its Beamforming technology is ideal for achieving enhanced connections no matter the direction of your router. It comes with 3 antennas that are designed to boost your connectivity for better streaming of 4K videos and intense online gaming.

Performance
Some users reported that they were unable to reach maximum data rates of 1300Mbps due to inherent networking issues with their internet connection. However, even though you might not be able to achieve maximum data rates, this adapter is still capable to deliver approximately 878 Mbps with most internet connections. It also comes with an easy setup plus it supports open source operating systems like Ubuntu and Linux.

Pros
Ideal for 4Kvideo steaming and online gaming
Reliable speeds
Features MMO technology
Cons
It has a slight learning curve to the installation process
---
7. D-Link AC1900 Ultra Wi-Fi Adapter- Best Budget USB Adapter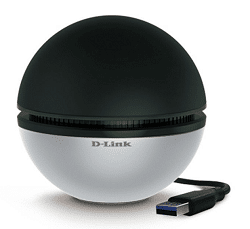 Lastly, we have the D-Link AC1900 Ultra Wi-Fi Adapter.

Features
This adapter boasts of a sleek design that comes in a spherical form with an 80mm diameter. Designed to be a dual-band adapter, this unit will give you speeds as high as 1300Mbps while using the 5GHz band and 600Mbps on a 2.4GHz connection. It's equipped with Beamforming technology for improved range plus it's easily compatible with most routers which is great.

Performance
Performance wise, this adapter provides a decent speed boost to your connection thanks to a powerful antenna array. You will need to install the driver before plugging it in however, overall set up and installation is easy. At its price range, the D-Link AC1900 Ultra Wi-Fi Adapter offers a great solution for gamers looking to upgrade their PC Wi-Fi connection. The only perceivable drawback might be its bulky size.
Pros
Easy setup and installation
Reliable speed and range
Easily portable
Affordable
Cons
It's fairly bulky
There is no wireless connectivity
---
Buyer's Guide: Factors to Consider When Buying a Wi-Fi Adapter for Gaming
Online gaming can be lots of fun and a Wi-Fi adapter can easily level up your gaming. But before you go ahead and make a purchase, here are some of the main factors you need to have in mind.
Type of Adapter
Wi-Fi adapters come in two formats. You can get a USB Wi-Fi adapter that you install just the same way you would a USB flash drive or you can go for a PCI WiFi adapter that is installed on the interface of your PCs motherboard. While a USB adapter comes with the convenience of easy installation it lacks in performance when compared with a PCI adapter.
Software
While some vendors will package their gaming Wi-Fi adapter with dedicated software, others will only include a driver-like-software. Drivers may seem a bit hollow in terms of functionality but their main advantage is ease of use. Wi-Fi adapters with dedicated software offer more control and monitoring of your network but usually come with a slight learning curve.
Wi-Fi Speed and Range
Wi-Fi adapters are categorized according to their networking standards. The newest networking standard is the 802.11 format. Adapters made with 802.11 formats are known to be faster and boast of a greater range.
This speed of an adapter is measured in megabytes per second (Mbps) and determines the performance of the adapter. As a gamer, the aim is to go with a Wi-Fi adapter with the highest speed for a seamless gaming experience.
When it comes to range, most modern options offer either of these band options i.e. 2.4GHZ and 5GHZ. While the 2.4GHZ band offers a longer, it is much slower than a 5GHZ band Wi-Fi adapter. Some sophisticated options (as you will see in our list) offer dual-band capacity meaning you get both 5GHZ and 2.4GHZ range and speed.
Here is a short comparison list of the Wi-Fi adapter speed requirements depending on your internet connection.
| | |
| --- | --- |
| Internet Speed Connection in Mbps | Wi-Fi adapter speed Mbps |
| 12 | 100 |
| 36 | 300 |
| 60 | 500 |
| 120 | 1000 |
| 240 | 20000 |
MU-MIMO Connectivity capacity
In most cases, the strength of your home Wi-Fi network will go down as more devices connect. MU-MIMO is a technology that solves this problem. It stands for Multi-User, Multi-Input, and Multi-Output. Although this technology is a requirement for Wi-Fi routers, it works well when the Wi-Fi adapter it connects with is also MIMO enabled. Therefore, check to see whether your adapter is MU-MIMO enabled if you plan to have multiple devices connected to your home Wi-Fi router.
---
Conclusion
With the best Wi-Fi adapter for gaming, you can easily outmaneuver your competitors in any game. These 7 options we have picked will give you reliable connection no matter your budget or internet connection. Be sure to also check out our buyer's guide to learn more about Wi-Fi adapters.