Looking to buy a portable monitor?
Then you are in the right place. We have found the best options available in the market. All these product's have been chosen after considering all the needs and factors for a gamer.
Our Top Pick
The GeChic 1303i 13.3″ 1080p Touchscreen Portable Monitor is one of the best options that you can choose, especially for those going portable. It comes with a 10-point multi-touch capacitive screen and full HD resolution to ensure that you can see everything with the greatest ease and enjoy working remotely.
---
Best Portable Monitors On The Market Today:
GeChic 1303i 13.3″ 1080p Touchscreen Monitor – Top Pick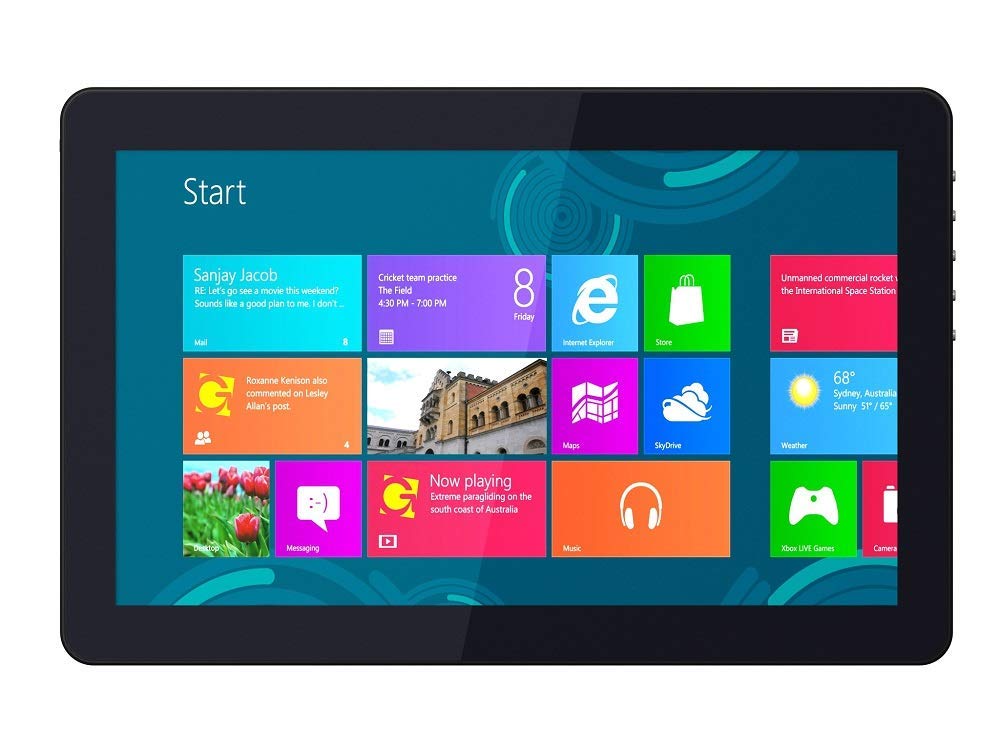 The GeChic 1303i 13.3″ 1080p Touchscreen Portable Monitor is the first one to make it onto our list and the massive 13.3-inch screen is definitely something that makes life easier. It does not require any driver installation and you can simply plug in the USB power input and you be ready to start using it wherever you are.
Since it is a complete touchscreen, it is really simple and easy to navigate through all of the top features that are on display. Anti-glare technology is incorporated on the screen itself and this will help reduce some of the strain on your eyes as well. Since it weighs a mere 1.9-pounds, you don't need to worry about the weight dragging you down either.
One of the downsides is that OS X Mac is not compatible with the touchscreen feature and this might not bode well for those of us with Mac devices. However, with most Windows devices, you have no problems using all of the features and did we mention the full HD quality is good enough for all your new movies as well.
It might be a little expensive when we look at some of the top monitors, but all of these features will definitely make up for it. The monitor can also be used with a pen and you can take some of your notes, making it one of the best for students.
Pros:
Lightweight at only 1.9-pounds
Full HD display
Plug and play system
Touchscreen
Cons:
Not compatible with Mac OS X
A little expensive
---
ViewSonic TD2430 24 Inch 1080p 10-Point Multi-Touch Screen Monitor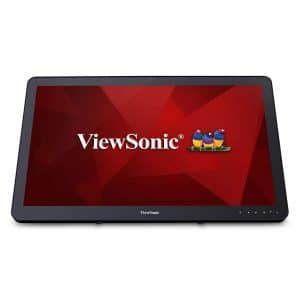 The ViewSonic TD2430 24 Inch 1080p 10-Point Multi-Touch Screen Monitor is one of the top options but this is all thanks to the massive 24-inch display system. It is also touchscreen with a 10-point multi-touch system that makes it possible. The muted black finish looks great on the tablet and the screen is also scratch resistant.
One of the best parts is the multiple connectivity options, making this a great option for those with a lot of work connections. The adjustable stand that has been included is actually quite stable and you can type on the device without worrying about the stand or thinking that it could actually give in. Additionally, 2 built-in speakers will give you optimal sound quality.
Unfortunately, the monitor is not compatible with any IOS devices or even the MAC OS system and this does limit the functionality quite a bit. We love the frameless design and this makes everything that you are looking at more real as well, it also removes those clunky feelings we get from using the standard tablets for display.
It might still be a little expensive, but that is what a portable monitor costs nowadays. It does come with a good 3-year warranty and this will give you some peace of mind. We would recommend it for the value and the quality that is on offer. However, it also works well for displaying photos on replay in your home or office.
Pros:
Touchscreen design
2 built-in speakers
Stable adjustable stand
3-year warranty included
Massive 24-inch display
Cons:
Pricey
Only compatible with Windows devices
---
GeChic 1503H 15.6″ IPS 1080p – Best Portable Gaming Monitor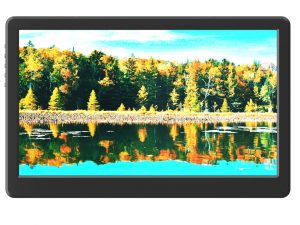 We all love gaming and having some fun without favourite games on the move. The GeChic 1503H 15.6″ IPS 1080p is much similar to the first one, but it comes with a large 15.5-inch display in full HD resolution. It is also slightly thicker than many of the others, but this should not be a problem and help keep it stable.
Once again, anti-glare technology has been incorporated and this will ensure that your eyes never really get damaged. The simple plug and play design mean that you won't need to worry about installing any drivers either. Additionally, the screen is scratch resistant and the backlight will operate for a whopping 15,000-hours.
GeChic is an expensive brand and we can easily see it with this monitor. It is definitely not the cheapest model on this list but does work well for gamers on the go. However, it is still not compatible with Mac OS X, but all Windows devices should work well and without any real troubles. This is definitely the right option for the avid gamer.
Pros:
Full HD resolution
Plug and play design
Extremely durable
Stunning look
Cons:
Expensive
Not the best sound quality
---
ASUS ZenScreen MB16AC IPS – portable hdmi monitor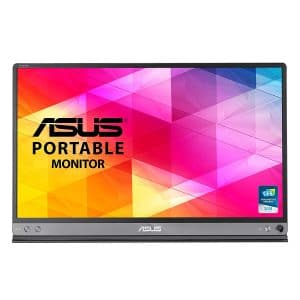 The ASUS ZenScreen MB16AC IPS is for those of us that are freelancing and constantly on the move. Instead of suffering from your laptop, this 15.6-inch display unit will take some of the strain off your eyes. This is all thanks to the ASUS Eye Care Technology that has been incorporated to remove the glare from the screen.
The monitor also features smart cover and a smartpen, making it easier to write on it and take some of the notes that you might need later on. It is only 1.7-pounds and with a thickness of around 0.3-inches, you can easily slide it in anywhere in your bag. It is worth noting that it requires a simple USB connection to control all the video and power of the device.
The monitor is one of the more affordable options on the market today and this is also one of the reasons why it is so popular. However, it is not a touchscreen and this does limit some of the functionality. With a decent warranty, you will have peace of mind, but we recommend also taking the extended warranty to ensure you are covered.
Pros:
Slim and stylish design
Lightweight at 1.7-pounds
Only requires 1 USB connection
Includes ASUS Eye Care Technology
Reasonably priced
Cons:
---
Elecrow 11.6 Inch Display Monitor – Best Monitor For Consoles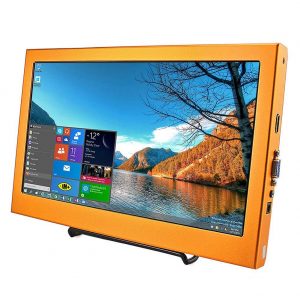 If you love traveling with your gaming consoles, the Elecrow 11.6 Inch Display Monitor might be one of the best options to choose. It features an 11.6-inch display and the full HD quality makes it perfect for playing all of your games in full HD. Made from industrial type materials, it is worth noting that this one of the more durable monitors on this list.
One of the top features is that is it compatible with almost every gaming console that has so far been released. Unfortunately, this does not include IOS devices. The speakers are of the best quality for great sound and the unit also features a wall mount. This should be perfect for displaying photos on rotation for your guests.
It is one of the most affordable options on the market today and this is why it is so beloved. However, it is not a touchscreen and the screen is rather small for many people looking to replace their laptops. If you are an avid gamer or you would like something small to fit your budget, this will definitely be one of the monitors to take into consideration.
Pros:
Small and portable
Simple Plug and play design
Full HD quality resolution
Compatible with gaming consoles
Really affordable
Cons:
It is not a touchscreen
The screen size is a little small
---
ViewSonic VA2452SM_H2 24 Inch Dual Pack Head-Only 1080p LED Monitors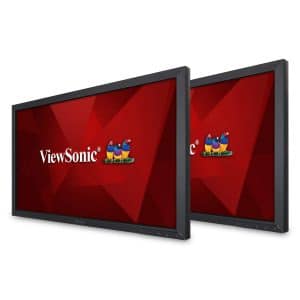 If you are looking for a deal, the ViewSonic VA2452SM_H2 24 Inch Dual Pack Monitors will be one of the best options to consider. Instead of only receiving one monitor, you will now be receiving two top quality monitors to work with. However, you don't have any of stands included and this needs to be purchased separately.
The monitor is actually quite versatile when it comes to connectivity and it supports Windows and IOS devices comfortably. With a massive 24-inch display system, you don't need to worry about not seeing what you are doing, but these monitors are mostly designed for display. However, they can be used for work as well.
Since this is a double pack, you will get great value for your money and they are actually quite affordable. The only addition we would have loved to see is the additional stands for those who use them on tables. Nevertheless, they can still be mounted to walls as this can be used much like a TV screen for your guests.
Pros:
You receive 2 monitors
Large 24-inch display
Reasonably priced
Supports all connections
Cons:
No stands have been included
---
ASUS MB168B 15.6″ WXGA 1366×768 USB – portable usb monitor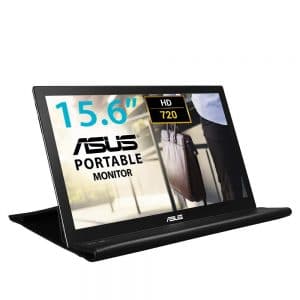 The ASUS MB168B 15.6″ WXGA 1366×768 USB is another excellent option for those who are working remotely and need something to connect their laptop. The 15.6-inch display is scratch resistant, but once again includes the ASUS Eye Care Technology to help reduce some of the strain on your eyes.
It comes with an extremely slim and sleek design and the monitor is slim enough to fit inside your laptop bag without causing it to actually bulge out. With a smart case included, the screen can even be rotated in a direction that makes the viewing angle more compatible. However, it is not touchscreen as many freelancers might like.
If you find yourself strapped to a tight budget, this will be the route to go. This monitor is perfect for those who need something affordable. It comes with free shipping and a state of the art 3-year warranty, which should be more than enough to ensure that you have some peace of mind when you are traveling.
Pros:
Easy and simple set up
Really affordable
3-year warranty
Full HD resolution
Cons:
---
AOC i1601fwux 16-Inch IPS – ps4 portable monitor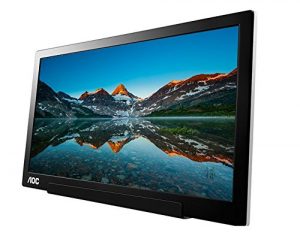 Last but certainly not least, we have the AOC i1601fwux 16-Inch IPS Extremely Slim USB-C Powered and this monitor has been designed to give you a large viewing angle and help you with your work. It is powered by a simple USB connection and this will make it much easier when connecting your laptop on the go.
Since the monitor is extremely slim and lightweight, it does qualify for one of the most portable options on the market today. The full HD resolution is great for streaming your favorite video and it can be set up virtually anywhere with the quality stand. Unfortunately, there is no real protection included for your eyes with this monitor.
The price is something you can smile about and it does qualify as one of the most affordable options on the market today. The monitor is really versatile and it can be used in both landscape and portrait mode depending on your work. We would definitely recommend it for students and anyone working while traveling.
Pros:
Slim and sleek design
Really affordable
Durable design with 90-degree stand
Large 16-inc display
Cons:
No eye protection included
---
Key Features To Consider When Choosing The Best Portable Monitors:
Now that you have seen the monitors that we rate as the very best, you might be wondering what features we used. Being a freelancer, I have used many monitors and found that some features are more important than others are. Here is the list of features that we used to ensure that we only bring you the best monitors:
Screen Resolution:
The screen resolution is one of the most important aspects of the portable monitor. You will need to see if it is full HD. Nowadays, it does not work if the screen is not full HD and with modern technology, everything is better when the screen is functioning at its best level. All of the monitors we have selected are full HD and even when streaming videos, they will be at their best.
Size and Thickness:
Portability has become an important aspect of modern day life and we don't have the ability to carry large chunky objects around. Not only does it look bad, but it is also much heavier. You will be looking for something that is lightweight and easy to carry around. If it is slim, it should slide into your bag without much trouble.
The screen size is where size does matter and having a larger screen certainly does help a lot when you are working or playing games. A large screen might be bulkier and make it harder to carry around, but if you are using it for display in your home, it will look much better. We do recommend something that is small and still good enough to wow your guests.
Durability:
There is a couple of factors to consider when looking at the overall durability of the monitor. Not only are we looking at the materials, but the screen as well. Unlike your household objects, this monitor will be traveling with you and this will expose it to a lot of wear and tear. Here are a few durability factors that we think you should look for:
Materials: The screen should be durable enough to withstand shots to it and if it is constructed from quality metal, it should not have any troubles in doing so. Aluminum is generally heavier than plastic but much more durable.
Scratch resistant: if the screen is taking a beating from all your working endeavors, it is important to have some sort of screen cover. Most modern-day screens are scratch resistant, but not durable against falling. However, you should look after the monitor and you won't have any troubles.
These are 2 of the main durability factors that you need to keep in mind. If it has more features, you are lucky and these can be seen as a bonus.
Eye Protection:
With the glare from screens, our eyes tend to take a beating and having some sort of protection for your eyes is definitely recommended. Brands like ASUS has incorporated an eye care technology that will not only reduce some of the glare but also help you work for hours without having to deal with constant headaches.
Stands:
It is almost mandatory for brands to include some sort of stand to keep the monitor standing upright. However, this is not always found and you will need to look for it. Having a portable stand that can be turned in multiple directions will give you a larger field of view, which means the monitor is perfect for use in presentations.
Power Source:
If you don't have a plug or any type of power source available when you are going, you won't be able to use the monitor. That was the case way back, but nowadays, brands are allowing the USB connections to serve as the power source. Not only does it make the monitor more portable, but you also don't have as many wires to deal with.
Warranty:
Last but certainly not least, we need to look at the warranty. A good warranty will ensure that you are protected from any potential damages that could be a result of a manufacturer defect. Since these are tech equipment, they are prone to having a few flaws from time to time and this can help you to avoid them. The industry standard for a good warranty is around 2-years. However, 3-years is even better.
---
How to clean your screens as fast as possible ?
---
Wrap-Up:
Now that you have seen the top monitors on this list, you should be ready to go out and find the ideal one that will meet all of your needs. We definitely stand by these and they all work well for their intended purpose. The GeChic 1303i 13.3″ 1080p Touchscreen Portable Monitor is strongly recommended for those working remotely and offers a lot of modern features.
We would like to thank you for reading this article and encourage you to share some of your thoughts. Let us know in the comment section which of these monitors you prefer and if we might have missed any of your favorite options.