Bandicam is a powerful screen recorder app that you can use to capture anything on your PC screen. The recording is done as a high-quality video.
You can also use this app to record a certain area on the screen or capture a game that uses Vulkan/OpenGL/DirectX technology. You do not lose video quality with Bandicam and can carry out game recording with a high compression ratio.
Bandicam screen recorder for PC can easily compress the video while recording. In addition, it takes less space and records video at high speed. The recorded videos have a high compression ratio and excellent quality. For this reason, they have fewer lags.
| | |
| --- | --- |
| Name: | Bandicam Screen Recorder for PC |
| Size: | 30 MB |
| Compatibility: | Window OS, macOS |
| Language: | English |
| Security: | Checked- Virus Free |
| Downloads: | 3.7M |
Features of Bandicam Screen Record App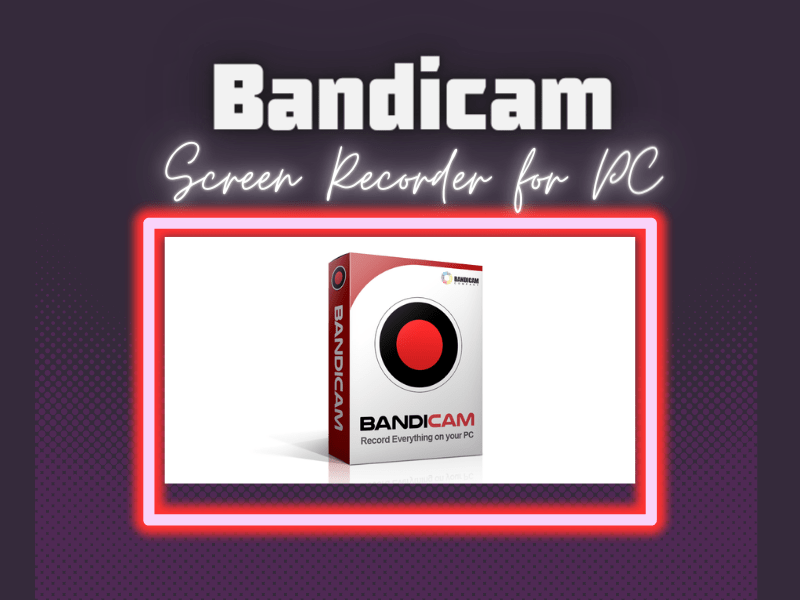 Bandicam is the top choice for people who want to record online software tutorials, gaming sessions, and more. This screen recorder has different recording modes for videos, games, screens, and devices.
So, if you choose the right mode for your recording, you can protect the quality of your exported video. The quality will not be compromised even if you compress the video to a smaller format.
Besides this, Bandicam screen record has a few more features that make it better than other screen recorders:
Screen Recording
Device Recording
Game Recording
Effects and Drawing
Scheduled Recording
Screen Recording
Bandicam screen record is a user-friendly app that makes it easy to record all parts of the screen in high quality.
When you use this app to record screens, the recordings are either saved as screencast videos or image files.
In addition, Bandicam allows you to choose any preferred area you want to record half or the full screen. Also, you can record a single application window using this app.
While recording with Bandicam, users can switch between the different available modes. It can be done without starting or stopping a screen recording session.
You can also use Bandicam for 24-hour long-term recording.
Bandicam allows you to use a webcam overlay feature to make better tutorial videos or YouTube videos.
Device Recording
Along with screen recording, Bandicam offers device recording features.
You can install the Bandicam screen record app to record an external video device. These devices include IPTV, Xbox, webcam, smartphones, and more.
If you wish to do device recording with Bandicam, open the app. Then select the device recording mode > device setting button > choose the device.
While doing device recording, you can put your facecam or webcam on the corner to explain the recorded video.
Game Recording
If you are a hardcore gamer, use Bandicam's game recording feature to capture your game in high quality.
Bandicam has powerful game-recording capacities that are quite popular among gamers. The beauty of this feature is that the recorded gameplay has no noticeable glitches or lags.
In addition to game recording, Bandicam also allows users to take screenshots. The screenshots can either be taken manually or automatically.
What's better is that you can take screenshots even while recording a session without any disruption. Or you can set the screenshot feature to automatic mode to take frequent screenshots.
High-resolution game screens of 4K UHD and 480FPS can be recorded in real-time using this app.
Effects and Drawings
Did you know that Bandicam not only lets you record anything but also allows you to draw any shape or outline in real-time?
The impressive effects and drawings features are extremely useful, as you can use them to highlight mouse clicks through animations.
You can use this feature for online lectures, YouTube videos, and tutorial videos.
Open the Bandicam and click on effects and drawings. Then choose one of the two available modes.
Following this, click on the pencil icon to create something in the screen recording.
Scheduled Recording
Lastly, the Bandicam game recorder allows you to schedule a screen recording at a certain time.
You must select the scheduled recording feature if you want to record at a certain time. The app will automatically start recording as per the set time.
Even if you are not active on the screen, you can start recording using this feature. It is mostly used for recording events or live shows.
You can enable the scheduled recording by starting the app and then click on the HDMI or Webcam icon.
Following this, choose the Device Recording Mode > Schedule Recording > set start and end time > Do Not Change option, and you are done.
How to Download Bandicam Screen Recorder on Windows PC and macOS
Bandicam is a useful screen recorder that can compress the recorded video without decreasing quality. If you wish to download Bandicam screen recording on laptop, follow the steps.
Steps to Download Bandicam Screen Recorder on Windows PC:
Step 1: To download Bandicam screen recorder on Windows PC, you first need to visit the app's official website. Then click on Download and then on the Download Bandicam button.
Step 2: The app will automatically start downloading on your PC. Once done, locate the .exe file in your downloads folder and run it.
Step 3: Select the language. Following this, a Bandicam setup window will be displayed on your screen. Click on Next to continue the installation process.
Step 4: Click on I Agree and follow the installation instructions.
Step 5: Lastly, you need to select an installation location, and you are done.
Here's a video on how you can download Bandicam PC:
Steps to Download Bandicam on Mac:
Step 1: If you wish to download Bandicam on Mac, you first need to download an emulator.
Step 2: You can search for the Bluestacks emulator online, click on the first link, and download the emulator to your Mac.
Step 3: Once the emulator is downloaded, locate the .dgm file in the downloads folder. Double-tap on it to run the folder and complete the installation.
Step 4: After the installation is done, open the emulator and click Google Play Store. Enter your Google account to proceed.
Step 5: Search for the Bandicam app and then click on the app's thumbnail. Finally, click install to get the app.
Step 6: Once the app is installed, you will find it under the apps section of Bluestacks. Click on the Bandicam icon to use the app.
Alternatives to Bandicam App
Bandicam is a trustworthy app that you can use to capture anything on the PC screen. In addition, this app also allows you to capture a specific part of the screen. But you must know about a few of Bandicam's alternatives so you can use them when needed.
#1 ScreenFlow
ScreenFlow is a multi-purpose smartphone application that you can use to record the screen in high quality.
With ScreenFlow, you can do activities that are more than just recording screens.
Besides recording the screen, you can also simultaneously record the device's microphone, camera, or audio interface.
Once the recordings are done, you can export them in the highest quality while keeping the file size small.
You can also add images, stickers, or video clips to the videos.
You can enhance your video quality by adding music.
#2 ShareX
ShareX is an open-source, free recording program that is as popular as Bandicam.
With this app, you can record the screen and share the recorded videos with one tap.
In addition, ShareX allows you to upload images, videos, and add text.
The recorded video can be saved as a video, audio, or GIF file without losing the quality.
ShareX offers multiple publishing options so you can save your recorded sessions on any platform.
Lastly, this video screen recorder free app allows you to extract text from the recorded videos without issues.
#3 CamStudio
CamStudio is another alternative to Bandicam. It's an open source and free application that comes with the ability to create AVI video clips.
This free video screen recorder app has a simple user interface so anyone can quickly record the screen.
The videos created by CamStudio have a smaller file size compared to the videos created by other screen recorder apps.
CamStudio also lets you add text and make other adjustments to your captured videos.
This app is absolutely free to use. It can record picture-in-picture screens along with screen recording.
FAQs
Is Bandicam safe?
Bandicam is a reliable and safe screen recorder free app that you can use without any privacy concerns. It's a virus-free app that helps you record in high-quality.
Is Bandicam free?
Bandicam screen recorder app has free and paid versions. The free version has many features, but if you opt for the paid plan, you can record up to 4K resolution.
How to remove watermarks from Bandicam videos?
If you want to remove watermarks from the Bandicam videos, you can use an additional app like HitPaw Online Watermark Remover.
Is the Bandicam watermark visible during video recording?
When you are recording a video, the watermark is not visible. But after the video is recorded, the Bandicam watermark will be displayed on it.
How to remove the time limit from Bandicam?
You can register the license while recording if you want to remove the 10-minute time limit.
Conclusion
Bandicam is an exclusive app that you can use for recording screens in high quality. This app has all the important features so you can comfortably record screens, webcams, and gameplay.
We have also mentioned three of Bandicam's alternatives so you can have a different screen recording experience. Or you can simply download Bandicam free online screen recorder for screen recording in laptop.