When you're looking for wireless microphones, there are a number of things to take into consideration. Audio quality is ofcourse the highest priority, but different microphones can provide better audio results depending on what they're being used for.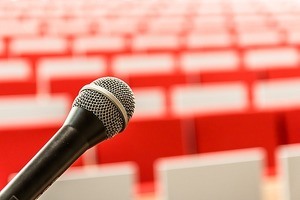 Budget is also a big concern for many people, and finding wireless mic system within a certain price range can be difficult.
Fortunately, we've made things easier by reviewing the best wireless microphone. 
Let's first take a look at our top three choice for different purposes.
Top Wireless Mic (Expert's Choice)
Sound Town Professional UHF System: If you want to go for the absolute best experience, we would suggest the Sound Town UHF System. This system comes with 2 handheld mics, a built-in LCD screen on the system, with a great audio quality.
Best Budget Wireless Microphone
Pyle PDWM2130: If a good budget microphone is what you're after, the Pyle PDWM2130 is a great option. This system comes with 2 microphones, a small receiver that's compact and lightweight, and antennas built into the receiver for better range.
Best Wireless Karaoke Microphone
BONAOK Wireless Karaoke Microphone: If you want a microphone that's built specifically for karaoke and singers, we would advise taking a look at the BONAOK wireless karaoke microphone. Built from the ground up for karaoke, this microphone comes with a number of features to make singing along to songs easy.
The Hotec 25 Channel UHF microphone is designed to be lightweight, yet durable. This microphone is perfect for those looking to travel regularly.
As a standalone single microphone setup, the Hotec 25 has an included receiver that can connect to any 6.35mm output slot. The receiver draws power from the speaker or sound system that it is plugged into to be able to output wireless signals.
The UHF 25 is battery powered and only requires 2 x AA batteries. This makes it easy to swap out batteries on the go if you ever need to.
As for audio quality, the UHF 25 is more than reasonable. It's particularly designed for vocal use during talking or singing. It's the perfect option for anybody that needs a wireless microphone on the go but doesn't want to be overburdened with unnecessary accessories.
Available Frequencies: There are a total of 25 UHF frequencies on this microphone. This is enough to find a clear frequency free of static and electronic appliance interference.
Contents Included: A single microphone, a portable wireless receiver, a USB charging cable, and a 3.5mm to 6.35mm adapter for the wireless receiver.
Pros
Great portable option for those looking for something simple
Good quality despite the small audio size
Cons
Only one microphone and no way to connect more than one microphone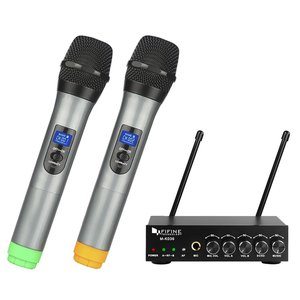 The Fifine Wireless Microphone System is designed for those looking to record voice audio or to create a live presentation. It's not designed for singing, but rather as a communication method for security or for those talking to people live via presentation or for recording voice.
It is convenient and easy to use, with a range of 40 to 65 feet. It's very easy to pair the receiver and the receiver together so that they both work on the best frequency with the least amount of static.
Its lavalier design is particularly useful for picking up spoken word and it works great for motivational speakers, conference hosts, lecturers, or any other people speaking to an audience. You can also connect the microphone to other equipment to use it as a way to record your voice for film or interviews.
An LCD screen is also provided so that you can check up on the microphone's battery condition. The device uses 2 x AA batteries.
Available Frequencies: The Fifine Microphone has 20 UHF frequencies available and the clearest frequency will be chosen when attempting to pair the receiver and the receiver.
Contents Included: A single headset microphone, a clip-on body pack, a receiver with a 1/4" plug, and a 1/4" to 1/8" adapter cord.
Pros
Great for recording voice for videos, speeches, or lectures
Easy to set up and powered by batteries
The Pyle PDWM2135 System is a great budget option for anybody looking for a system that supports two microphones simultaneously. The Pyle PDWM2135 comes with 2 microphones, a VHF narrow band receiver system, and a broad frequency response range.
You'll find that the audio quality on these microphones is decent and there's very little to no distortion. The receiver also comes with an adjustable volume control that can be used to balance its audio alongside any other audio equipment you may be using.
The frequency range for the microphones is up to 100 feet, but it performs best at a distance of 30 feet. You can expect the quality to be high and you won't find any issues with your voice cracking or sounding distorted, even with both microphones being used at once.
The Pyle PDWM2135 is a great option for music performances and singing, but it can also be used for speeches, talking, and interviews.
The microphones are powered by 2 AA batteries and the receiver must be connected to a power source.
Available Frequencies: The Pyle PDWM2135 VHF has a frequency range between 174-216 MHz. Frequencies can be switched by using the receiver unit.
Contents Included: Two microphones, a receiver system. 
Pros
Great budget option for when you need more than one microphone
Sound quality is great and range is up to 100 meters
Cons
Limited frequency range so interference may be a problem
#4. ARCHEER UHF (Professional Wireless Microphone)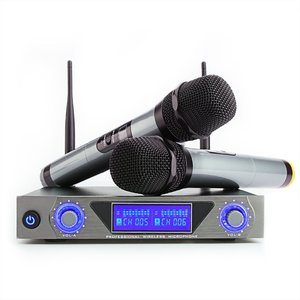 If you want one of the best dual wireless microphone systems, you should consider the ARCHEER UHF. This setup comes with two high-quality microphones and a receiver with a built-in LCD display.
This wireless system uses UHF and works at 220-599MHz, giving a lot of room for finding a clear frequency without interference.
The receiver also has two included antennas to improve signal range and a strong connection at all supported ranges. So long as you have line of sight of the receiver, you can reach up to 80 feet with this system.
The microphones are unidirectional cardioid microphones – these offer clear, high-quality sound that's ideal for anything from conferences to singing. For operation, the receiver system requires a power source and the two microphones require 2 AA batteries each.
Available Frequencies: 220-599MHz up to 80 feet. With such a wide frequency range, finding an interference-free frequency is easy.
Contents Included: A single wireless mic, 2 handheld microphones, 1 6.35mm audio cable, a power cord for the microphone system, and a user manual.
Pros
Excellent audio quality for all sorts of usage scenarios
LCD display on system provides additional information
Cons
Slightly more expensive than some other options on this list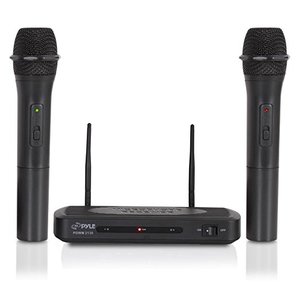 The Pyle PDWM2130 Wireless Microphone System is the best multi-microphone setup for those on a budget. The system is very basic and doesn't come with many features, but for such a low price you can't complain when you're getting two microphones in one.
This microphone system uses an FM band receiver system – there are two frequencies that can be switched between. This means that it can sometimes be difficult to find a clear frequency, but if you're in an area without much interference, you shouldn't have a problem.
The audio quality of these microphones is great as well, and you're able to speak or sing into both microphones simultaneously and sound will be picked up without any issues.
Both of the microphones require 2 x AA batteries each and the receiver requires a power source.
Available Frequencies: The frequency range for the PDWM2130 Microphone System is 617-652MHz – this is a dual band frequency that can be switched on the receiver system.
Contents Included: A single wireless system with one receiver, two microphones, and the power cord for the receiver.
Pros
Very cheap multi-microphone system
Cons
Frequency range is limited so interference can sometimes be an issue.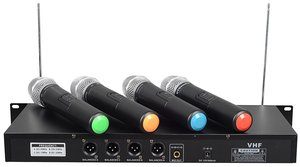 If you need a multi-microphone system that can support up to 4 handheld mics at once, you may prefer to go for the GTD Audio G-380H. It's more expensive than the other options on this list, but the price per microphone is relatively similar.
The receiver has a 4 channel system that allows you to connect each microphone to a separate channel. Each channel has a separate LCD display to showcase the frequency it is connected to. There's also a separate volume control for each and every channel. Two wireless antennas are included to help boost the signal range.
The available frequency range is 240MHz to 260MHz – this is just enough of a frequency range for the microphones to work well alongside each other, but it gives little wriggle room for other interfering devices unfortunately.
The quality of the microphones is spectacular. Expect great quality for both talking and singing. Each of the four microphones are powered by AA batteries and these must be purchased separately.
Do keep in mind that with all four microphones connected, there can be a considerable level of noise, so it's only best using the whole setup together when you've got backing music to cover up the noise levels.
Available Frequencies: The frequency range for the GTD Audio G-380H VHF  is 240-260MHz. With all four microphones on different frequencies, you are limited when other interfering devices are sharing the same frequencies.
Contents Included: A single wireless receiver, 4 wireless microphones, a power cord for the wireless receiver, audio cable to connect the receiver to a sound system.
Pros
Great option if you need up to 4 microphones on the same system
Great sound quality from the microphones
 Cons
Frequency range is limited so noise and interference can be a concern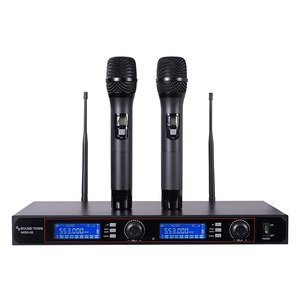 We've saved the best for last. The Sound Town Professional Microphone System comes with two high quality microphones and a single microphone receiver.
The receiver has an LCD display and controls for adjusting each microphone volume and frequency independently. Two antennas are included to improve the range. The dual channel system allows you to connect both microphones onto separate channels and there are 200 UHF frequencies to choose from between 640MHz to 690MHz.
This large frequency range makes it incredibly easy to find a frequency that's completely free from interference.
The system also has a 300 feet range, so long there is line of sight between the microphones and the receiver.
The microphones use cardioid quartz crystal oscillation to stabilize frequency to make sure sound quality is always reliable and of the highest quality.
Available Frequencies: A frequency range of 640-690 MHz is available on this system.
Contents Included: 1 receiver with LCD display and 2 detachable antennas, 2 microphones, and power cord for the receiver.
Pros
Exceptional sound quality
The great frequency range for interference-free audio
Cons
Far more expensive than other options on this list
Types of Microphones And Which One to Use?
There are three main types of microphones and what you really need will depend on what you will be using the microphone for. The three microphone types are dynamic, ribbon, and condenser microphones.
Dynamic Microphones
Dynamic microphones use a metal diaphragm that will move and vibrate a coil of wire that's wrapped around a magnet to turn the audio you speak into it into electric energy.
As you speak or sing into a dynamic microphone, the sound from your mouth will hit the diaphragm and make the coil of wire vibrate – this will then turn the sound you made into electric energy. The energy will then be sent through the speaker or sound system being used to turn that electric energy back into the audio you originally created with your mouth.
Typically, dynamic microphones are inexpensive, durable, and provide fairly decent audio quality. They are especially useful for talking.
Ribbon Microphones
A ribbon microphone will have a very thin strip of metal inside as the diaphragm. Because it is so thin, it can quickly turn any acoustic energy sent through it into electrical energy. Because the diaphragm is thinner and faster at transferring energy, it can capture a higher frequency response.
Ribbon microphones are perfect for replicating audio as close as possible to the source sound – this is a great option for singers looking to create studio quality music.
Ribbon microphones are less durable and are far more expensive. Typically, these types of microphones are left in the studio and aren't used as a portable option because of their high cost and low durability.
Condenser Microphones
Condensers are different to other microphones. They use two electrically charged plates – one will act as the diaphragm and will move when audio is pushed into it, whilst the other plate is fixed.
This allows condensers to pick up a range of different sounds, from softer notes to louder audio. The fixed plate will pick up the louder sounds, whilst the diaphragm plate will be great at picking up softer sounds.
Do Wireless Microphones Perform Worse Than Wired Ones?
Using a wireless microphone system has its advantages – its portable, easier to set up, and requires less messing around with cables and wires, but does using a wireless microphone impact the audio quality?
The first thing to consider is that yes, wireless audio and wired audio will sound different. Different technology is being used to transfer the data, so the end result will always be different.
The general assumption is that wireless audio will always sound worse because there is always going to be interferences, whether it's from other wireless devices on the same frequency or from physical objects blocking the line of sight between the microphone and the receiver.
But how much of a difference actually is there between wireless microphones and wired microphones? Is the sound quality on a wireless microphone really that much worse?
The answer is yes – the audio quality is somewhat worse. The first thing that's immediately noticeable when switching to wireless is that there's always a level of static or interference that seems to be very hard to remove. If you're playing a microphone over music or using it casually, this static isn't much of an issue.
The sound profile does change slightly, too. If you were to use two versions of the same microphone, one wireless, and one wired, you will notice very slight differences in audio character. However, the differences aren't necessarily bad.
In summary, wireless microphones do have worse audio quality but only because of the static noise that appears due to frequency interference.
How Does Wireless Interference Work?
With interference being a big issue with wireless microphones, it can be quite interesting to understand exactly how it works.
They often use radio frequencies to transmit audio. With this, audio can be transmitted from the microphone to a receiver. The receiver can then send that audio through speakers or a sound system connected to the receiver.
These signals have to travel through the air which means there can be some interference.
The most common type of interference is from other radio frequencies. If another device is sending out data on a similar frequency, the receiver will find it hard to pick up the microphone audio clearly. This usually results in static or other audio quality issues.
If there are physical objects such as walls between the microphone and the receiver, the audio quality can be impacted too. Sometimes, if there's enough of an interference, you won't be able to get the data to transfer at all.
To improve audio quality when using a wireless microphone, you will need to find an area that has little to no interference from other devices using radio frequencies. It can also help to use a microphone system that has a wider frequency range – this way, it will be easier to find a frequency that has no interference.
You should also consider the placement of your receiver when using a wireless microphone. Try to keep as short distance as possible, and attempt to avoid having any objects in between the microphone and the receiver. You should especially watch out for walls blocking the signal.
Go On, Tell Us What You Think!
Did we miss something?  Come on! Tell us what you think about our buying guide on "Best Wireless Microphone" in the comments section.